Botanica
A new vision for over 50s lifestyle resorts
Botanica is the first over 50s lifestyle resort to call Cairns home and needed a brand to help build its niche in a marketplace burnt by unfavourable experiences with the Cairns retirement industry.
Botanica is unique in the sense that not only does it bring a quality over 50s product to Cairns, it sets itself apart with a more holistic ethos in making wellness modalities and nature available within the lives of its residents.
Sin created a brand around blending nature, lifestyle and well-being to turn Botanica into more than just a place to live. Botanica is a sanctuary where residents can return to to reconnect, relax and recharge and start living life true to themselves.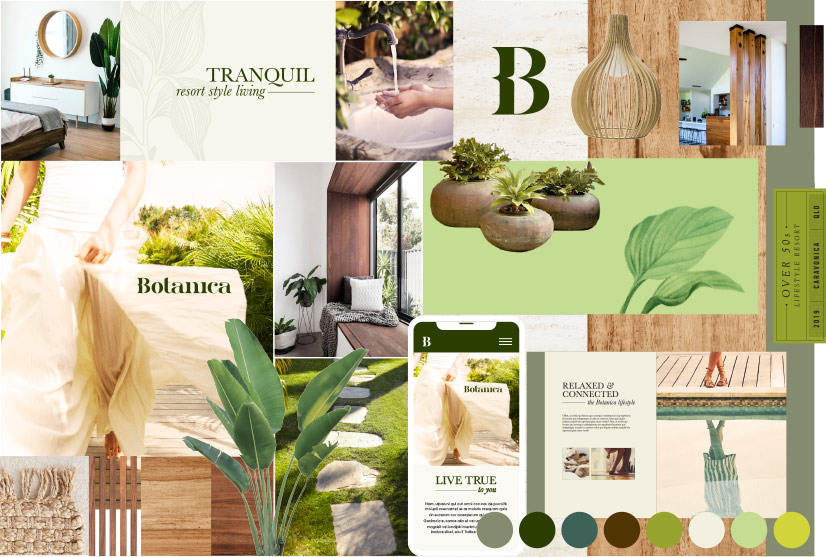 Storyboard
The look for Botanica is light and clean to create a relaxed, spacious feeling. Warm toned greens, creams and earthy colours keep it feeling open and welcoming by avoiding any cool tones. Accents of timber and soft travertine stone bring in natural elements to echo the interior of the Botanica homes. This gives a sense of the built environment found at Botanica and weaves it in with snapshots of life, moments by the pool in the afternoon sun, soft grass to wander through barefoot, and contributes to a overall energy of health and vitality experienced at Botanica. Botanical imagery lends a tranquil touch, a reminder of the essence of the resort.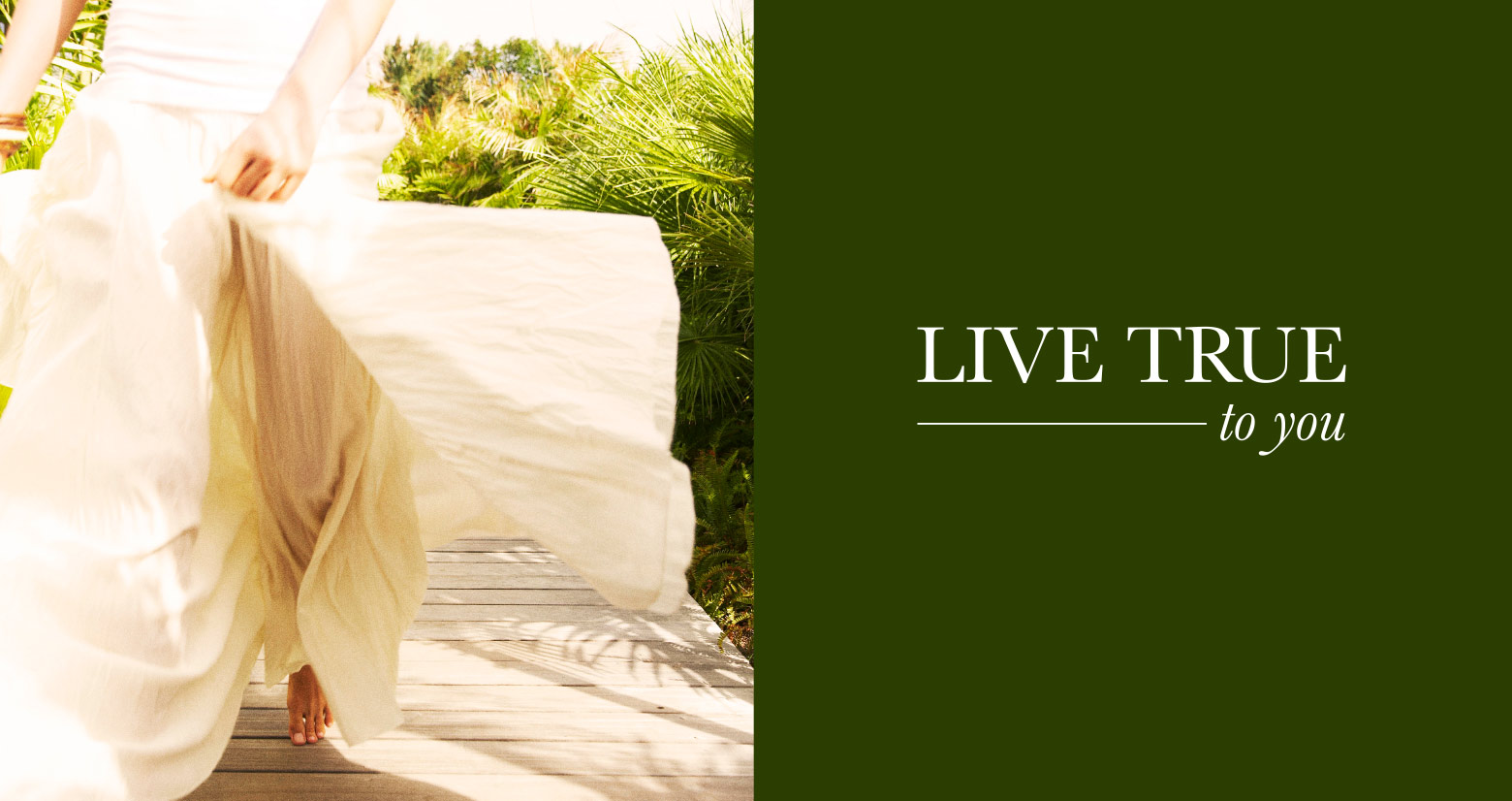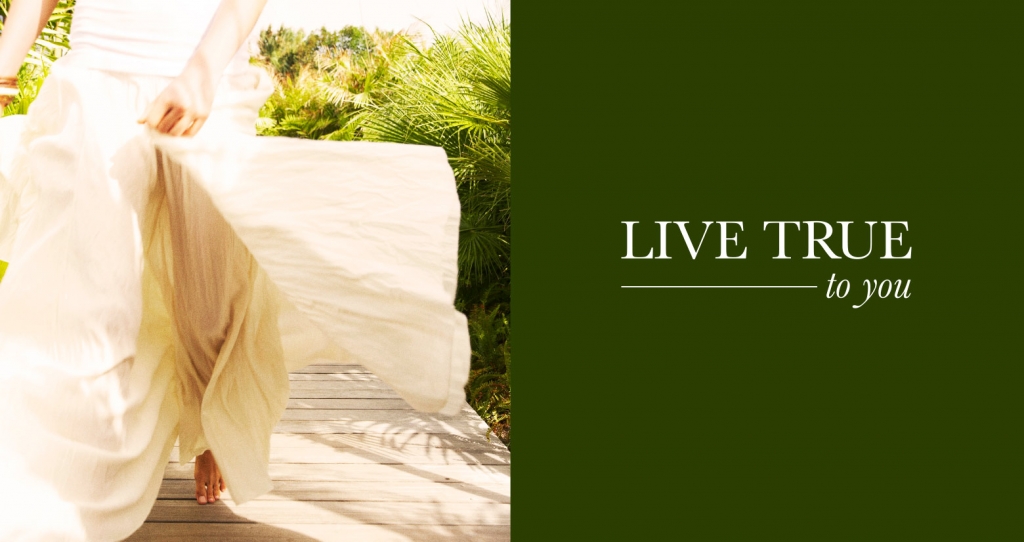 Live true to you - our brand story
Live True to You captures what it means to live at Botanica. Our audience is typically people whose children have left home, the family home has become too big or too much maintenance and they are looking for something smaller, although smaller does not mean compromising on quality. Our audience have more time on their hands now that the demands of raising a family have passed meaning more time to devote to connecting to what makes their souls sing. More space to redefine what their life looks like and how and where they spend their time. Botanica is the place for this.
Botanica is not a retirement village with scheduled activities. At Botanica you can unplug from the constant white noise of modern life. Here, the relentless stimulation of city or suburban living gives way to nature, and busyness turns into calm. At Botanica you live life on your terms, where residents are encouraged to find balance in all areas of their life.
Botanica is the canvas upon which residents can create their own style of well being and balance. Where what is true for them creates their own personal wellness. Whether it's spending time in the sauna, enjoying the country club or simply losing oneself in life's small moments, like a cup of tea in the sun.
The Botanica logo is the essence of the resort, distilled into a single mark. The custom created typography has soft flowing lines to emulate an organic feeling while still being strong and bold. A combination of curves and sharper lines echo the fusion between nature and architecture that is Botanica.
The B in the logo is designed to become an iconic mark for Botanica that can be used as a badge in isolation across any desired collateral.
Typography & Graphic Elements
Botanica is positioned as a prestige product and the style of typography is designed to emulate this. The serif headlines portray a luxurious and classy attitude, inspired by the timeless elegance of high end fashion houses and softened with a flowing italic. Headings are stacked to create simple yet beautiful layers of typography echoing the simplicity and beauty of a Botanica lifestyle.
Transparent, stylised snippets of plants have been used as graphic elements throughout the brand to highlight the botanical nature of the resort inherent in its name, while not resorting to cliches such as close up photographs of plant life. Subtle linework patterns also hint at botanical pieces in a more interpretive fashion providing a stroke of playful lightness to offset the traditional serif typography.
The photography for Botanica is all about painting a picture of the lifestyle residents can find at the resort. This is done through snippets of everyday activities, with shadows and warm tones creating a welcoming and relaxed mood. The images strive to evoke the feeling of living small moments that bring personal fulfilment, transporting the viewer into imagining their life at Botanica.
Unique, Bespoke Architecture
Sin created a unique vision for the Botanica home designs and worked closely with local Cairns architects to bring the designs to life. The inspiration behind the designs was to create a style of architecture that would become synonymous with the Botanica resort, offering people a bespoke Botanica style rather than the usual cookie cutter homes that are found in many other communities. Each Botanica home comes with the option of a classic or contemporary facade design to choose from.
Sin gave each home an original name and logo to identify each design. Instead of typical names of flowers or plants, Sin drew inspiration from famous botanists, botanical gardens or figures of note from within the history of the botanical world.
Some include London's Kew Royal Botanic Gardens, Maria Sibylla Merian, a naturalist and one of the world's first scientific illustrators, and John Claudius Loudon, a Scottish botanist and garden designer who created the first public park in 1840.
Botanica and Edible Gardens
A key piece of the Botanica resort is the fusion between nature and an architectural built environment. Part of the brand was to emphasise the connection to nature that residents would have while living at the resort. Eight hectares of botanical gardens will be part of the resort and will also be open for the public of the Cairns area to enjoy as well as the Botanica residents. Edible gardens were also proposed to feature heavily throughout the resort from community gardens to edible streetscapes. Working with a local landscape architect, Sin developed streetscapes for Botanica with native fruit bearing trees meaning that residents can harvest fruit right from their doorstep.
A large variety of native plants were also selected to help maintain and grow the local ecosystem along with the added bonus of attracting beautiful butterflies and birds in the process, turning Botanica into a true nature sanctuary.
Sin worked closely with interior designers and cabinet makers to create the display suite. As no display homes were ready upon launching the Botanica project, the display suite needed to take visitors on a journey through each aspect of the resort to paint the overall vision that Botanica would become.
Sin designed the display suite and oversaw the flow of information throughout the space, envisaging how visitors would move through it. The display suite was broken up into a welcoming reception area, lounge, private consultation space, display kitchen and masterplan area, complete with a custom designed table to display the masterplan.