Botanica Resort Theme
Creating an inspirational vision
Botanica is an over 50s lifestyle community in Cairns with a focus on combining wellness and nature within the resort. With a name like Botanica and a location like Cairns, Sin's challenge was to create an inspirational resort that lives up to the name Botanica and the idea of a rich and wellness focused lifestyle, without falling into the tropical rainforest or typical day spa cliches.
So much of the attraction of a resort lifestyle is how it makes you feel when you live there. Much more so than the sum of the home designs, country clubs and all their features, there needs to be a tangible atmosphere that inspires you daily.
Sin set out to transform the Botanica resort into a truly destinational location, the likes of which have never been seen before in Cairns.
The country club is the centre of the resort, where residents meet to have a drink, lounge by the pool or enjoy a game of billiards. Sin wanted to create an architectural style that was sleek and angular that would be striking in its juxtaposition against lush nature surrounding it. This is cushioned with natural furnishings, features and foliage. Materials that are soft and hard are played against one another through smooth timber against dark steel and soft seeping light, matt tiling, rough stone and a glint of glass. Loose stones and natural fibres further balance clean, sharp structures while hanging greenery, statement light features and breeze block patterns bring in a touch of playful quirkiness.
The country club needed to feel spacious and airy yet warm and welcoming with a strong relationship between the built and natural environments. Shade features, screens, wide open doorways, large ceiling fans and cool flooring create a balanced and connected ambience throughout the country club and into the al fresco areas surrounding it.
Sin went deep into the details of the resort curating a direction for interior gardens, lighting, flooring, wall features and the textures throughout the buildings.
Indoor plants bring nature inside and help to offset the contrast between the strong architectural lines of the buildings and organic natural surroundings. The curved flowing shapes of the planter pots, interior garden beds and vertical gardens, help to further soften sharp built features.
Hanging pendant lights in wicker weave, designed in materials such as cane, rattan, and timber were recommended, in curved organic and unusual shapes. Recessed floor lighting seeps out creating a welcoming glow, with one major hero piece of lighting also envisaged for the main area of the country club.
The floors have a soft organic feel in keeping with nature, avoiding any hard or gloss tiles, instead using 'soft' textured floors in matt materials such as travertine tiles, timber and jute rugs. Feature walls include elements of uniqueness along with timber coated or rope wrapped columns, rough timber logs and textured stone features.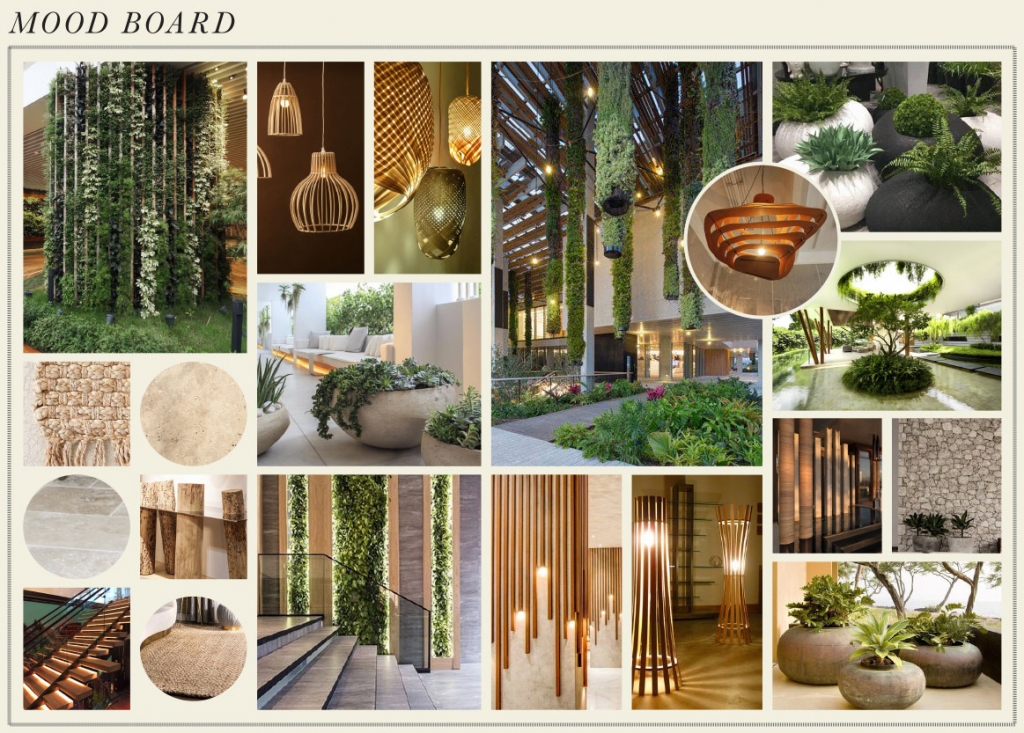 The porte cochere is an opportunity to create an impactful entrance to the country club that sets the tone for the rest of the building. Sin's idea was to create an engaging design that on the outside followed the angular lines of the exterior architecture of the country club, and on the underside incorporated a more intriguing, organic style. A design that makes people look up when they walk underneath it.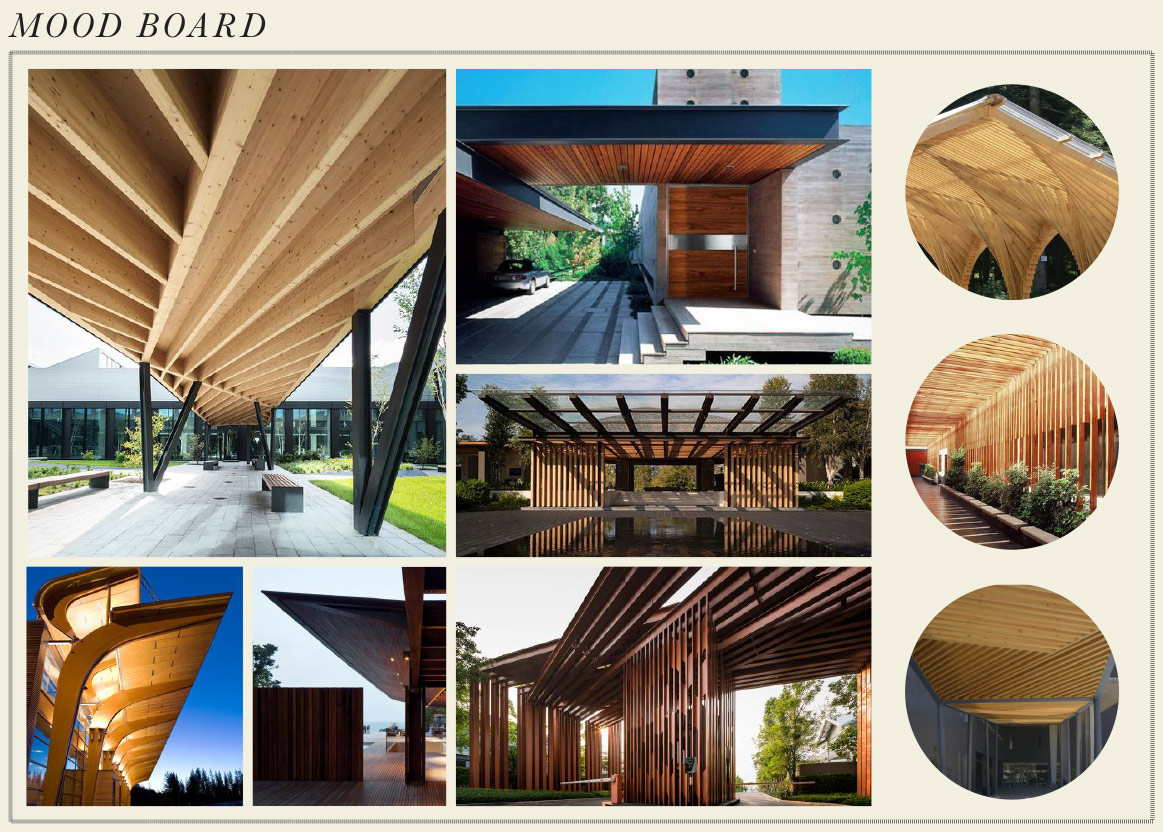 A defining feature of Botanica is the approach to wellness that is part of the resort's ethos: combining nature, lifestyle and well-being to create balance in the lives of Botanica residents. The country club will be home to wellness modalities such as a sauna, yoga room, treatment rooms for massage and other therapies.
The approach to the decor of the sections of the resort devoted to wellness incorporates soft lighting and natural materials to create a calm and quiet atmosphere that is instantly soothing and relaxed.
Landscaping & Botanical Gardens
The challenge with the resort was creating a very lush feeling with nature while having a small footprint to work with. The solution was to create heavy lush vegetation through layering different plants to create the feeling of density in the limited resort space. The landscaping style is slightly untamed to avoid feeling too manicured. Landscaping details include loose pebbles, rough paving stones and warm timber against big bold leafy green garden layers.
Botanica will be home to 8 hectares of botanical gardens, creating a nature sanctuary for both the residents of Botanica and the wider Cairns community to be able to enjoy. The landscaping direction is tropical lush vegetation that cocoons visitors in a peaceful, calming atmosphere. Water features are interspersed throughout the gardens with natural timber features such as arches, walkways and bench seating to continue the Botanica theme of fusion between the built and natural environment.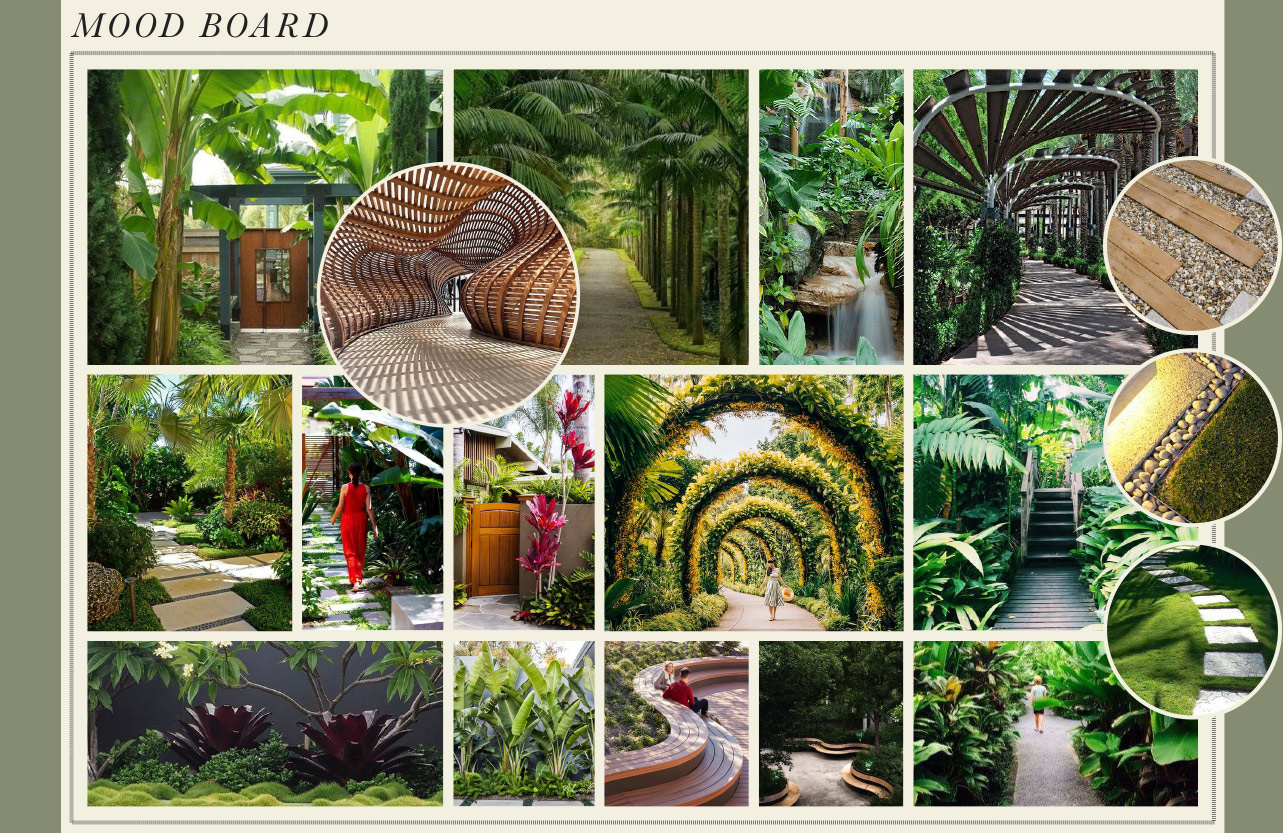 The Cairns residential market is ready for something new and interesting with only a string of uninspiring residential options available for over 50s.
Botanica is not just a visionary lifestyle community. It aims to also inspire an entire trend of interiors. Sin borrowed elements from Australian coastal beach houses, colonial Queensland architecture and lush rainforest retreats to create something new. A bespoke style of architecture that is uniquely Botanica. It is relaxed tropics and modern elegance at the same time, using natural materials with a hint of organic Bohemian style.
Sin also helped shape the direction of the facade designs with detailed examples based on the preliminary home designs supplied by the client. While the final designs changed along the way, the mockup images in the moodboard below show a snapshot into the design process.
Home Interior Design Vision
Sin carried across pieces of the country club feeling into the homes with hints of dark steel, timber accents, pendant lighting, ratan rugs and a touch of leather. Contrast between heavier and lighter elements create balanced yet interesting spaces.
Kitchen styles combine mixed stone and timber benches, warm colours and hanging pendant lights. Bathroom styles vary from moody softness to bright and vibrant, drawing on different combinations of elements from the overall Botanica look.
The bedrooms include feature walls, created through muted paint hues, timber cladding or with the inclusion of shelving. Ratan rugs or interestingly designed pieces of furniture such as bedside tables also create features that highlight the rooms.