Palm Lake Resort Cooroy-Noosa
Take me to Noosa!
When your product is located in the Noosa region, what better inspiration could there be?
Rather than fall for brand styling using cliched seahorses, shell and mermaids, we chose the things that Noosa is famous for. Crisp white tablecloths, long lunches under green canopies, giant glasses of sauvignon blanc, linen shirts, resort wear, sun hats and shades of blues and aquas.
The result is a fresh look for an existing resort, and a whole new aspirational sales pitch that resonated with buyers and increased sales.
The inspiration board process.
When creating a new brand, Sin often create an inspiration board, to try and capture the right feeling. It can typically use images, patterns, colours – literally anything that evokes a sense of place or product. One of the most powerful value-adds a brand can use is the existing perceptions and world views. Once the inspiration board is done, we build elements that are unique to the new brand, yet echo the same emotions, aspirations, loyalty and value. The acid test is being able to remove any understandable wording or obvious references and ask someone to describe the brand and emotions they are experiencing.
The elements that define Noosa.
Blue, blue and more blue. Shades from light to brilliant, to aqua and emerald, is there a bluer coastline in Australia?
Crisp white tablecloths, long lunches under green canopies, and giant glasses of sauvignon blanc
Linen shirts, resort wear, sun hats and more white
Pandanus trees, Frangipanis and coastal sand landscaping
Minimalism, naive simplicity, thin slab serif fonts, light patterns
Noosa is light blues, pastels and corals
There's nothing heavy or ornate here
The Noosa beach house. A signature Sunshine Coast invention, with wooden floors, glass shutters, open bifolds, neutral colours and more white!
Ralph Lauren beach homewares, dried coral, driftwood
Noosa dreams - our brand story.
The word 'Noosa' immediately evokes visions of lapping blue water marching in straight lines to the point, white sands, the boardwalk and affluent relaxed people in resort wear strolling along Hastings Street. The clean, white, airy feeling of Noosa has a singular unique identity that has not changed in three decades, creating a vision in people's minds that draws them back year after year.
Noosa's iconic style owes more to 1980's Miami and Key West than any other Australian location. Our new Palm Lake Resort brand celebrates that distinctive Noosa feel.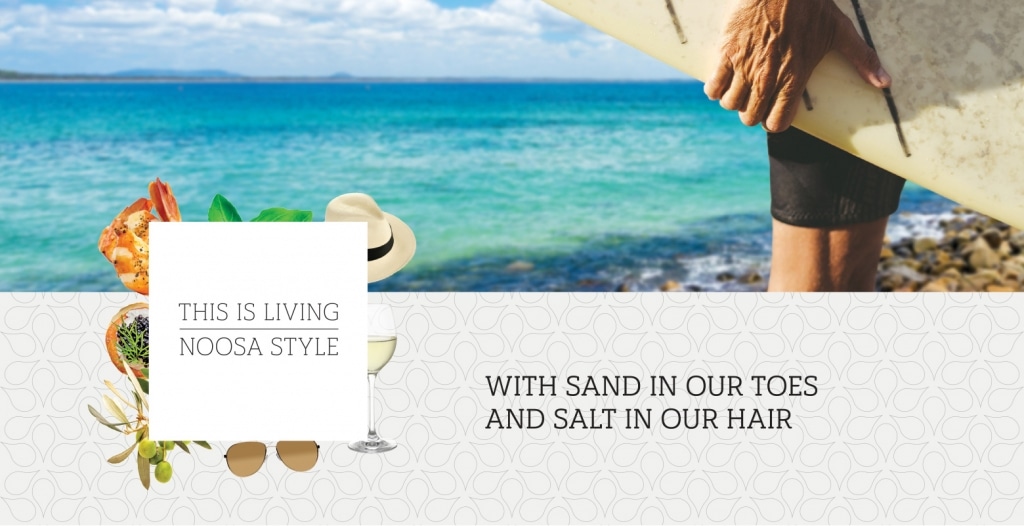 Sin's work covered not only the brand and advertising material, but also the design of house facades and theming of landscaping (to capture that truly coastal style) and assist in the display home decor.
Sin was commissioned to also create murals for the Country Club bowling alley. Inspired by our Noosa location muse, we created a flat 1980s linear styled view of famous Noosa beach, with all the characters you would expect to see.