A Bold New Approach to Community Focused Education.
Sin was approached by WEA Illawarra, a community based collage providing accredited training to the Illawarra community since 1913. WEA were in need of new a brand overhaul and a new website to help new and existing, young and senior students enjoy a streamlined online presence.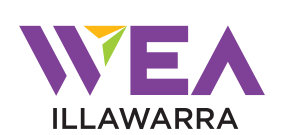 Bold, Brash & Beautiful For A Reason.
With WEA Illawarra attracting both young, senior students and everyone in between, the new site needed to cater to all demographics. A big, bold and colourful look was chosen with colour coded categories not just for a modern feel, but for ease of use and legibility for older members of the community.
Easy Navigation, For All Ages On Any Device.
With feedback from not just older students that the existing site was to difficult navigate, the new site needed to super simple to find your way around. An uncluttered UI/UX was designed and developed to be not just easy on the eye but easy to navigate for all ages on all devices.
With a high percentage of users accessing the site via mobile devices, a carefully thought out mobile design was designed and developed. Vital, and often overlooked on mobile devices, a clean, easily legible and navigational menu system was needed.
The WEA signature colour shards are a big part of the new brand, playing on the angle of W & A in the logo. Deep etched students are employed to give life to the site along with playful, WEA branded, purple objects.
The photography styling focuses on close ups of activities students and learning at the campus. The WEA signature shards are overlayed on the hero images and colour coded the to the particular section of the site.
The new brand is now being rolled out across all mediums starting with the stationery and certificates.