Caloundra Cay
Palm Lake Resort
Creating a Caribbean hideaway on the Sunshine Coast
Tucked away on the gorgeous Sunshine Coast, Palm Lake Resort Caloundra Cay spirits you away to the pristine beaches and lushness of a Caribbean island.
Caloundra Cay is one of Palm Lake Resort's premium resort offerings. With strong competitors in the same area, and closer to the beach, Caloundra Cay needed an aspirational brand and story to inspire and attract customers.
Sin's inspiration for the brand was the luxurious yet laid back feeling of the Caribbean, positioning the resort as an upmarket, prestige product.
The result transformed Calounda Cay into one of Palm Lake Resort's best selling resorts, a continuously coveted Caribbean hideaway.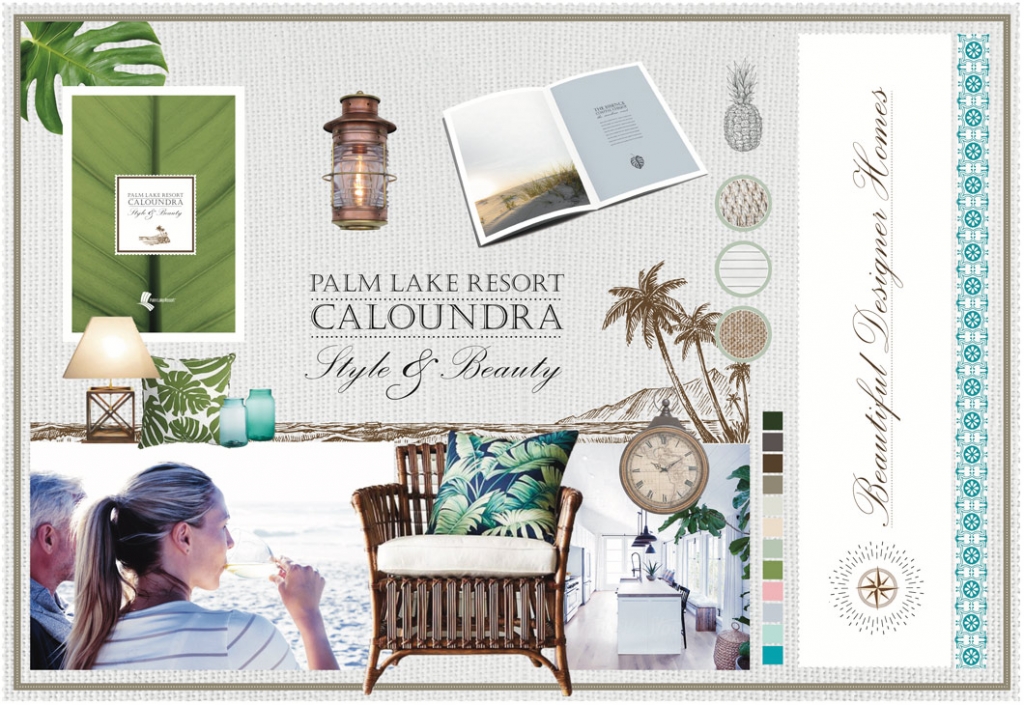 Capturing the Caribbean - our brand story.
Ralph Lauren Hamptons meets Hemingway Caribbean. The resort theme and story is one of a colonial tropical mood married with a timeless New England elegance.
The Sunshine Coast is destinational for its beautiful, coastal location, sandy beaches, lush hinterland and year-round temperate climate and the brand for Caloundra Cay reflects this with an exotic twist channeling the faraway islands of the Caribbean and warm coconut scented breezes.
A casual tropical feel is underpinned with upmarket elegance to create a sense of laid back luxe.
A base of soft New England styling is accented by unmistakable Caribbeanesque textures, patterns, materials and flashes of deep lush greens, corals and cooling sea-tones of the expressive aspirational colonial tropics.
It is distinctive, memorable and exclusive.
A uniquely themed resort needs a unique name. We avoided clichéd resort terms duplicated up and down the Australian coast, and chose a highly unusual word that suited our colonial Caribbean styling.
A Cay (pronounced 'key') is a "low bank or reef of coral, rock, or sand, especially a Caribbean island."
It immediately evokes romanticised visions of pure white sands against impossibly dark tropical storm skies, palm fronded shade and the deep rich colonial furnishings of well-to-do plantations. In short, the perfect name to carry the brand's aspirations. Memorable and exotic.
It is not a well known word in English (usually being Americanised to 'key', although the Great Barrier Reef has many well known Cays). But this very difference, and possible mispronunciation by people, is its strength. In the name, an entire brand story already begins.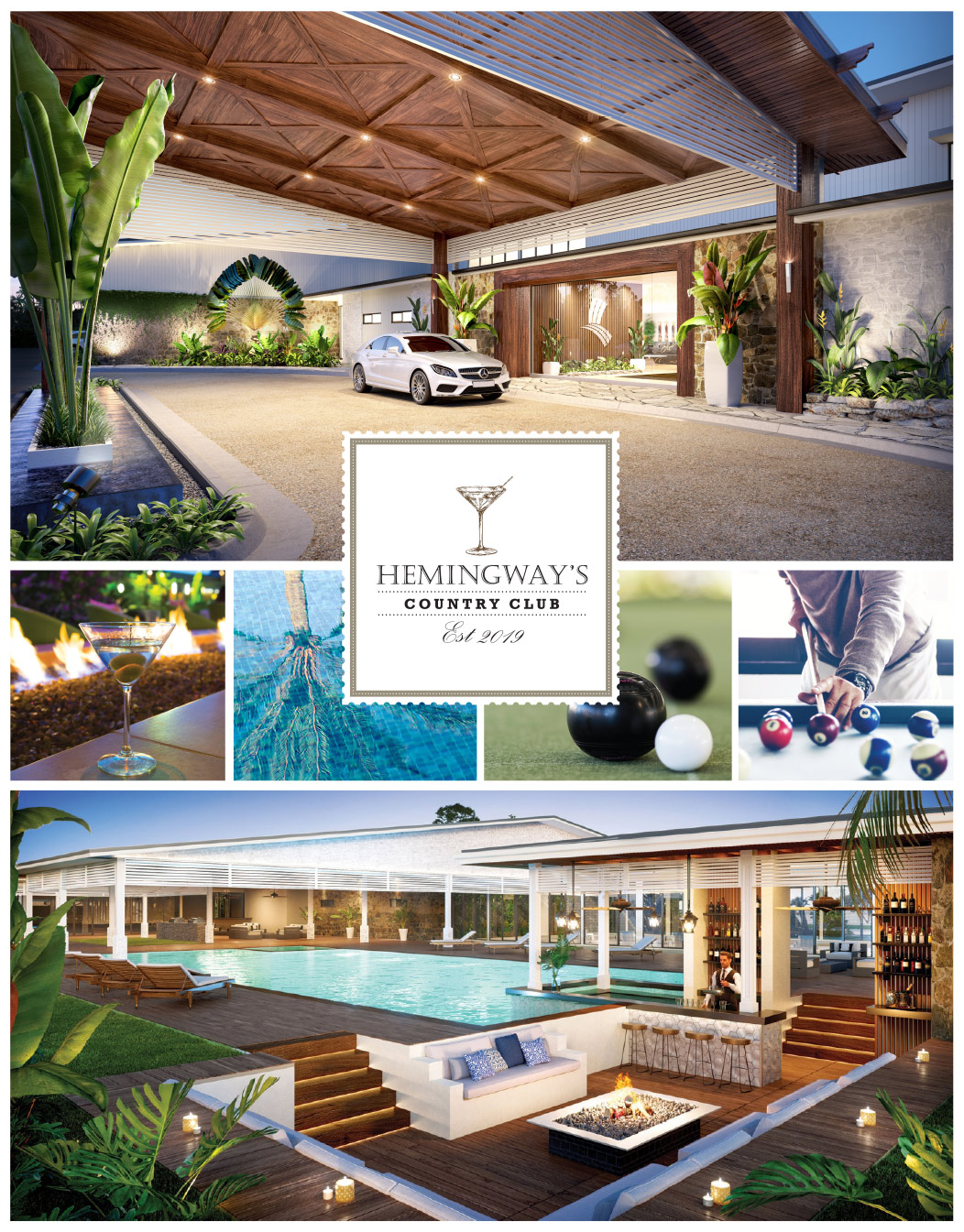 An inspired resort.
Sin advised across every aspect of the resort design. From the smallest details to the biggest and most important areas that create a unique island style as relaxed as a Jamaican holiday.
We also worked closely with the 3D artists to create the perfect vision for the resort, allowing future residents to experience Caloundra Cay before building commenced. Every tile, every light, the types of timber and each plant were all hand picked to deliver our vision of Caribbean Resort style living for the Hemingway's Country Club and facilities, and each home facade, interior and landscaping.
Interior design, Caribbean style.
Sin worked closely with an interior designer to bring the feeling of the Caribbean into the homes themselves. Texture and contrast feature heavily with an eclectic mix of materials creating a sumptuous palette of dark timber, flagstones, African tribal influences and fusions of jungle motifs and tropical patterns.
Heavy emphasis on details bring in the likes of Georgian bookcases, French furniture and animal prints with influences from nautical themes and African safaris. It echoes the mid century style of Ernest Hemingway, Ralph Lauren safari and the modern interpretation of the Bahama island house by India Hicks.
Underpinning it all are clean white walls and the lush greenery of banana and elephant leaves, suggesting a tropical paradise with lazily turning bamboo fans and deep rattan furniture.
Pass the panama hat.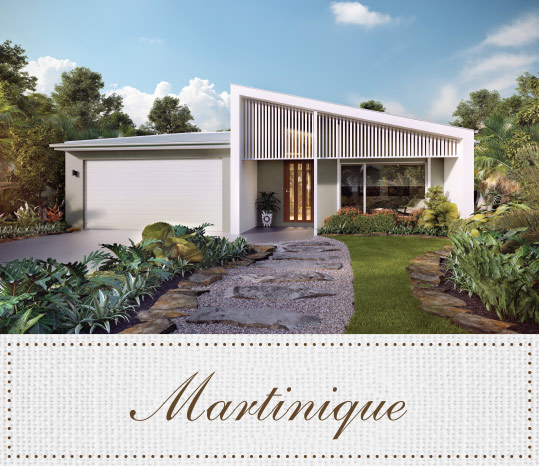 Exotically named and designed
Sin wove the essence of the Caribbean through the architecture of the homes as well as the names. Each name echoes an island, town or region of the Caribbean. Heavy timber, stone and cladding painted in shades of taupe, charcoal and cream adorn the facades to create a modern Caribbean style accented by lush exotic landscaping.
The sales centre featured an interactive masterplan using Zoneable technology developed by Sin. Visitors can select the house design they like and immediately find available homes on the masterplan. The technology stores all large images locally so they can be delivered in 4K quality to the screen without lag, whilst the availability information is driven by a cloud hosted spreadsheet that connects to the internal sales database. This means all availability is live without database duplication.






Three murals were also designed by Sin which carried the Caloundra Cay theme throughout the resort. Brightening the walls of the undercover bowls club, ten pin bowling alley and indoor pool, the murals depict lush tropical scenes of Caribbean jungles, seasides and exotic animals.