Haan Health
Making care about the result; health.
Haan approached Sin to help reposition and separate them from existing medical centre experiences.
Sin created a new brand for Haan and helped redesign their new centres to be warm, welcoming environments that put patients at ease. Their new story was one of health, not medicine, focusing on the outcome rather than the procedure. The result was a far friendlier experience.
A story of joy
The problem with most medical clinic brands is they look, well, clinical. Who says a medical centre needs to look like a hospital? Why does a medical provider brand need to include smiling doctors and stethoscopes?
Haan Health's new brand is not about the environment of medicine delivery – it is about the result; health. And the joy of being healthy again.
When we are feeling sick, we all wish to be back to our old selves – to feel like us again and not be lessened or impaired by something wrong. To feel strong, healthy and capable. The new positioning, 'Be you again' taps into that desire, and that belief that we can be cured. It is a positive, inspiring message, delivered on a personal level in modern, comfortable surroundings. Patients feel relaxed and welcome, and treated with respect and care.
A reinvention of a high end health centre that offers a unique, more personal experience,
It's about being you again.
Finding the brand's DNA
The old logo attempted to create a monogram out of the HAAN letters, but instead looked cold, clinical and harsh – exactly the old school hospital approach we wanted to avoid. The client wanted a connection to the previous mark, so Sin reshaped it to subtly resemble an image of the DNA double helix, adding more meaning to the logo and connecting the brand into health without being scientific. And if you look closely, you can see every letter in the HAAN name.
Setting the scene
An important aspect of the new brand was the environmental design of the clinics. Sin designed signage and wallpapers inside and out and gave creative inspiration to Haan for furniture, fixtures and fittings. The overall feel is calm, welcoming spaces to put patients at ease during their visits.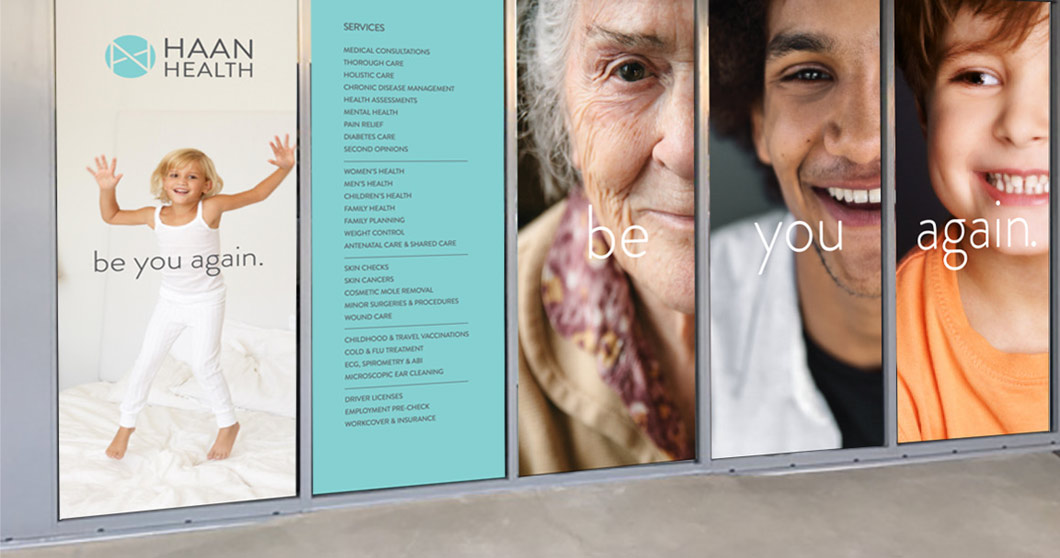 Sin designed a bespoke Haan logo artwork piece for the reception area, using a nail weave effect. An artist was commissioned to build the one-off piece that has a striking effect sitting proud of the timber reception wall.
Showing the outcome
Rather than show clinics, doctors or cliched stethoscopes, The Haan brand story of being you again needed to be told through happy people, focusing on the outcome and not the procedure, and removing the stressful perception of a health care experience. All ages, looking directly at the camera; confident, assured and healthy.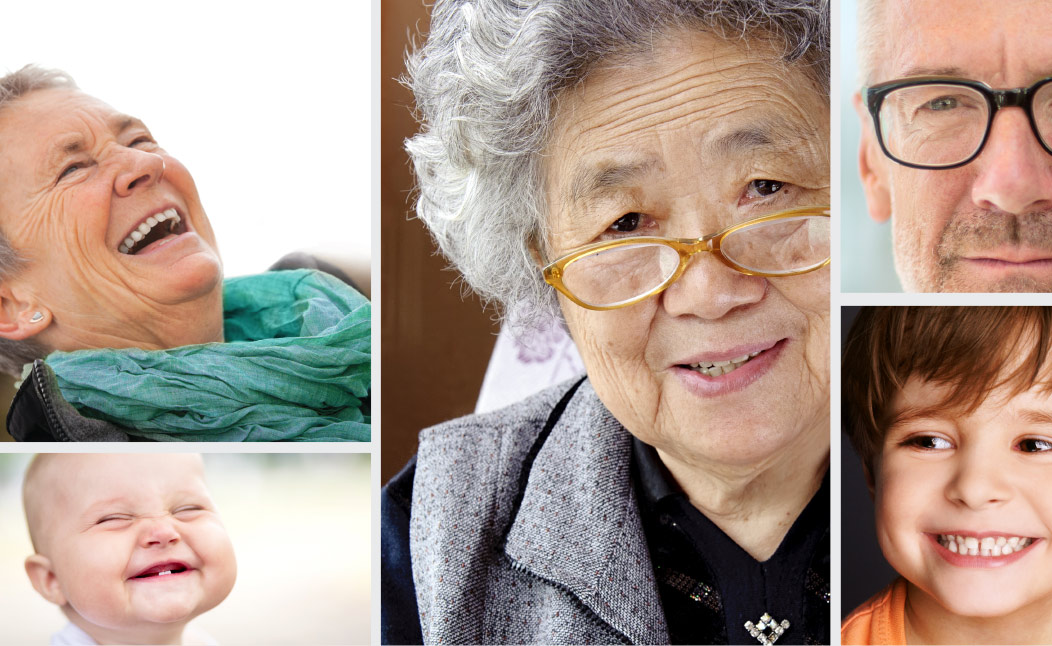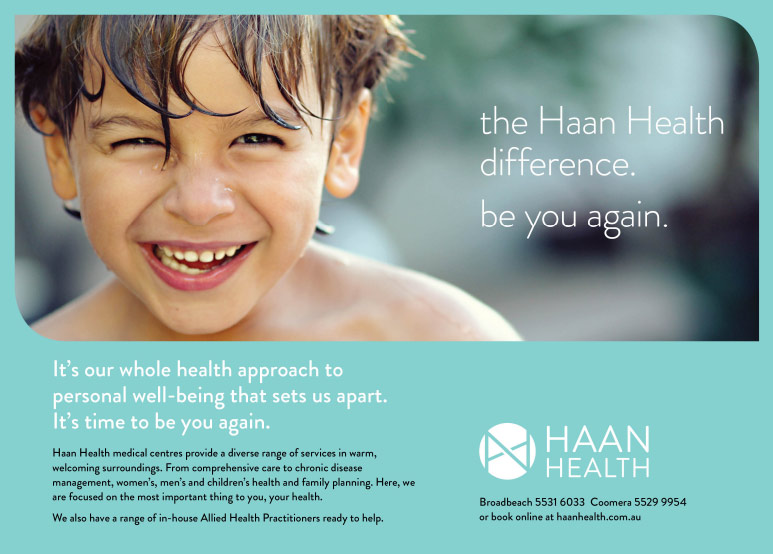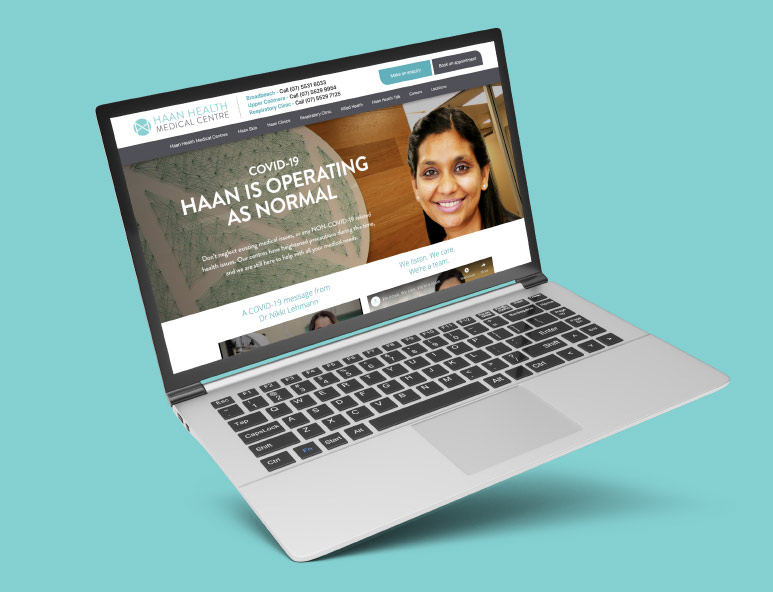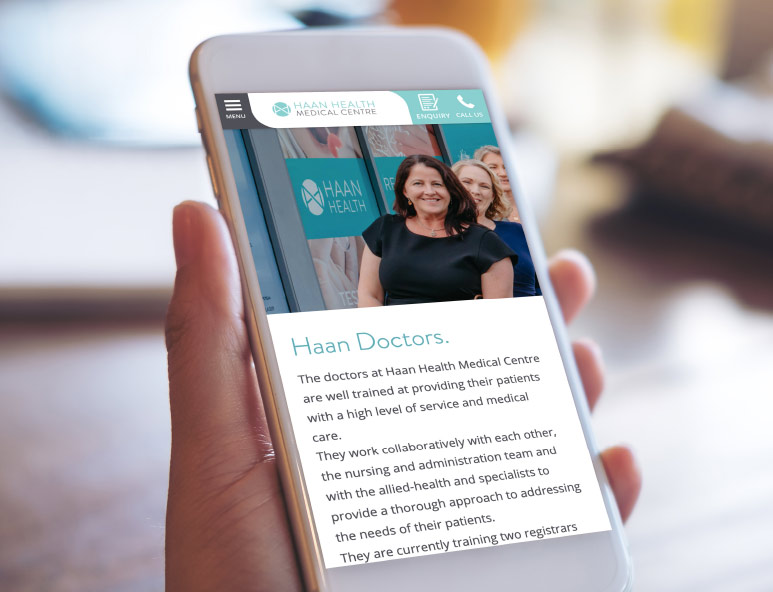 Since the launch of the new Haan Health brand, Haan has diversified, with Sin branding and marketing each new business.
Haan opened a second medical centre, added a specialist skin clinic, Haan Skin as well as Rise Sleep-Health Hubs and Allied Health services. In 2020, Haan teamed up with the Australian Government Department of Health and opened the specialty Haan Respiratory Clinic to help with the Covid-19 crisis and other respiratory issues.